The URWERK UR-110 TORPEDO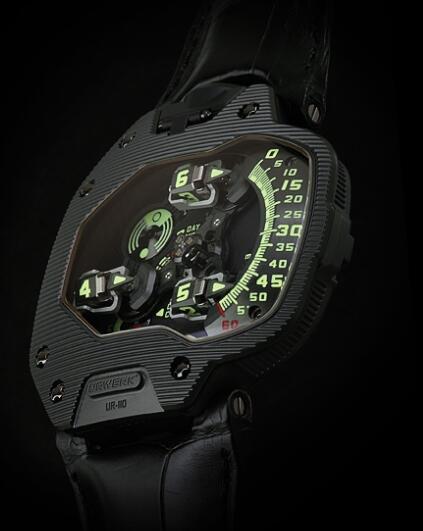 UR-110 is a watch with an attitude. From its unusually asymmetric base to three arrow-shaped "torpedoes" flying on missions indicating time, the UR-110 has a serious attitude. The planetary gear device is wrapped in a safe titanium case, which keeps the satellites in parallel for three hours, and turns to indicate the elapsed time of 60 minutes. The "oil change" indicator alerts users when maintenance is needed; the "day / night" indicator helps track changes in the time zone; and the twin turbines on the back minimize wear and tear on the automatic winding system.
UR-110 continues Urwerk's radical tradition of timing satellites orbiting. In the UR-110, the time is always displayed on the right side of the watch. The satellite moves down the vertical line and the slope ranges from 0 to 60 minutes. The originality of this layout is that it allows the wearer to watch time carefully and elegantly without having to pull the cuffs or sleeves back.
The metallic color predominates on the dial and is known for its position on the predominant titanium case. The case is flipped over, and the titanium back cover wraps an innovative automatic winding system adjusted by a twin-turbo.
Technical index
case
Grade 5 titanium aLTIN with 316L stainless steel bezel
Dimensions
47 mm x 51 mm x 16 mm
caliber
UR 9.01
Features
Hour, minute, day and night indicator, oil change service indicator
dial
Satellite complications of a rotating hour / minute module mounted on a planetary gear
strap
Black crocodile skin